Psych!  I totally had you thinking I not only finished the dress but reviewed it, didn't I?  Also, remember when people used to say "psych!" all the time?  Yeah, let's not bring it back.
Anyways, I titled this post The Mustard Dress because an email from Anthropologie lured me to their site where I saw this dress: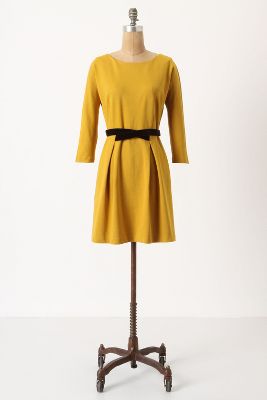 I feel validated now in making my mustard dress…which you'll see if I ever really do finish and review it.
I still don't have any finished projects to show, but I have made some progress.
The mustard dress, Vogue 8511, is still waiting on its hem.  Let's not talk about it.
I stopped working on the red gabardine pencil skirt, Vogue 8363.  I couldn't take it anymore.  The fabric shifted constantly, snagged the very first time I sewed it, unraveled like crazy and the loose fibers stuck to everything in sight.  I don't remember how much it was, maybe $4 or 5?  Not worth it.
I knew I wanted to make multiple pencil skirts from that pattern to fill a gap in my wardrobe, so while at the fabric store picking up fabric for more versions, I decided to just start over with a new, less frustrating red fabric.  In addition to the red, I picked up an army green fabric and a grey with white pinstripes fabric.  The red skirt is so close to being done, the fit is almost spot on, however the thread and zipper I bought for the original skirt is too bright for this fabric.  I'll have to pick up new ones tonight so I can finally finish something up.
After I realized the zipper wouldn't work with the skirt, I put it aside and picked up the Sorbetto instead.  In my rushed tiredness, I sewed a right side to a wrong side.  At that point, I decided to call it a night.
I'm hoping to finish up the red skirt and the Sorbetto tonight because in the meantime, I've been creating quite the list of "to sew" projects.  Maybe later today I'll add a list to the side of the blog so it's easier to access than an old blog posting like the Tim Gunn list.  For now, here is one thing I had in mind:
Some of the versions I saw were really cute, but there are numerous reviews about the fit being much too big.  I think if I can nail the fit on a muslin, I'd make multiple versions of this dress as well.  I already found some fabric I'd love to use for them:
For the most part, I have finished my PR Think Pink Contest entry but I'm holding off on reviewing it because I haven't decided if I want to make a few little tweaks before I really consider it done.  I've put it aside though to try and work my way through the stash I just acquired on Friday.  I must be one of the few people that can't actually maintain a stash.  It really bothers me to spend money on more fabric when I already have perfectly good fabric sitting at home.  Unfortunately, most of what I received on Friday doesn't really pair up well with any of my Tim Gunn items.  I think you see where this is going…I'm going to continue deviating from the list.
Currently, I'm working on using the "antique brass" jersey to make the longer sleeved version of Vogue 8511:
In jersey, this dress comes together really quickly.  It's taking me a bit longer because I've taken too many breaks and have more than once sewn the the wrong pieces together.  Like other PR reviewers have noted, the sleeves are big.  In jersey, they're borderline obnoxious, especially compared to the very close fitting bodice.  Today, I plan on taking in one of the sleeves to see if that's doable without having to alter the armscye.  If not, the sleeves might have to go altogether.  That wouldn't be the worst thing in the world since I'd actually prefer to wear this with a black or dark brown cardigan.  I'm not sure the color is the best against my skin but that's an issue for another post.  I anticipate finishing it tonight, letting it hang overnight and then hemming it tomorrow. 
Up next, I wanted to make Butterick 5559 in the red jersey but I'm worried the jersey will be too lightweight.  Again, I'm not the most experienced sewer and my knowledge of fabrics is lacking, but I thought jerseys were lightweight.  However, Butterick 5559 states it is for "moderate stretch knits only" but then suggests "ponte knits and jersey."  Ponte knit I understand.  Are there different types of jersey?  It's probably time I invest in a book on fabrics.
Since I really, really love this dress, I think I'm going to hold off, use the red jersey for something else and buy some ponte knit, once I feel more comfortable buying fabric again of course.
So, I'll probably make Vogue 8685 I paired with the blue jersey in the last post, instead.