Psych!  I totally had you thinking I not only finished the dress but reviewed it, didn't I?  Also, remember when people used to say "psych!" all the time?  Yeah, let's not bring it back.
Anyways, I titled this post The Mustard Dress because an email from Anthropologie lured me to their site where I saw this dress: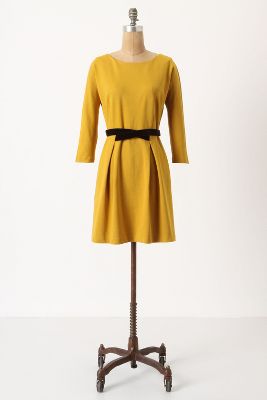 I feel validated now in making my mustard dress…which you'll see if I ever really do finish and review it.
To avoid getting burnt out, I'm taking a brief hiatus from sewing until my fabric order arrives.  In the meantime, I decided to take a look at the new Vogue and Simplicity patterns to see what to add to my ever-growing pattern wish list.  Thankfully, not a single Simplicity pattern appealed to me.  Here are the Vogue's I like:
Vogue 8778 – I really like this one but I doubt I'll ever make it.
Vogue 8771 – This looks so easy to make and would be great for the winter in a sweater knit.  I don't think the drawings though do the sleeves justice. 
Vogue 8765 – I have a ton of patterns picked out to make dresses for work.  They're all starting to look alike, but if I made this one, it'd be the pencil skirt version.  Flowy dresses and skirts tend to make me look too young.
Vogue 8766 – Views D and E would also be great for work, but again, I'm sure I either have a pattern or have one on my list that looks just like them.  Maybe I'll make View A for fun.
I'd love to add the next three to my list but I don't think my sewing skills are quite at this level yet.
Vogue 1265
Vogue 1268
Vogue 1270